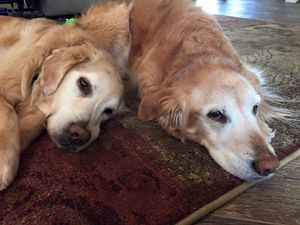 Oct 9, 2015 - Litter Mates Storm & Brook demonstrating the art of relaxing!
 MACH4 WAKEMUP RAIN DANCE CD RA MXB2 MJG2 AXP MJP2 ADHF OS
Storm is an OUTSTANDING SIRE.
MACH3 Wakemup Rain Dance CD RA ADHF OS
July 2011
 

AKC TopDogssm in Agility MACH Competition for Retrievers (Golden)
Considering Events Held Between January 1, 2011 and Ending June 13, 2011
But Limited To Events Processed Through Friday, May 20, 2011

Sorted in Number of Points/Number of Double Qualifies Order 
 
Rank
Name          
Sex
Points
Dbl Q's 
a/k/a
#32
MACH3 Wakemup Rain Dance CD RA
D
501
4
****Storm****
 
---
---
Storm is prcd-PRA Normal/Clear!! The blood was drawn for the Optigen test at the GRCA National in Enid, OK in Oct '09.