Congratulations to Linda Nelson and Nash who is now known as
MACH5 Wakemup Sea Nash Run MXS2 MJG2 MXP MJP OF NAC NJC ADHF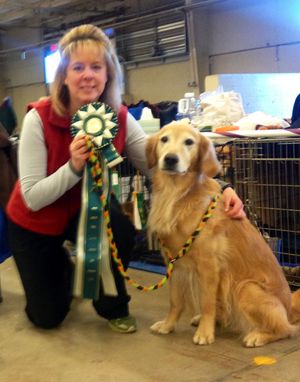 Feb 2, 2014 Nash & Linda get 
MACH 5
 in Wichita
MACH4 Wakemup Sea Nash Run MXB2 MJG2 OF NAC NJC ADHF
Bellevue NE - May 4, 2013
MACH3 Wakemup Sea Nash Run OF NAC NJC ADHF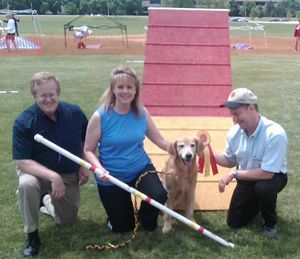 From Linda: "I was SO VERY PROUD of Nash on Saturday, but actually the ENTIRE journey between MACH2 (which we got just last July 3rd ) and MACH3. He has had a lot of FABULOUS runs in the last 11 months ... some really nice ones that I messed up and really nice ones that we sealed. I love my BOY ... he tries so hard for me ... he adores his mama!!!!!!!!!! Thank you Beth, Susan & Terri ... for my fun-loving, happy-go-lucky boy. Thanks to everyone for your great support and endearing friendship."
AKC TopDogssm in Agility MACH Competition for Retrievers (Golden)
Considering Events Held Between January 1, 2011 and Ending June 13, 2011
But Limited To Events Processed Through Friday, May 20, 2011


Sorted in Number of Double Qualifies/Number of Points Order



Rank
Name          
Sex
Pts
Dbl Q's
a/k/a
#46
MACH Wakemup Sea Nash Run OF
D
372
8
****Nash****
 
MACH2 Wakemup Sea Nash Run OF NAC NJC ADHF
From Linda: 
Nash was SUCH a good boy all weekend ... having fun and paying attention ... and I managed to not mess us up. For those of you who were there ... THANK YOU SO MUCH for all your support and hugs and taking care of Nash when the crowd sort of over took us. For those of you who couldn't be there ... I felt you there in spirit. Thanks for being with us on our journey. Lots more fun to have and progress to make yet ... so .... see ya in a few days :)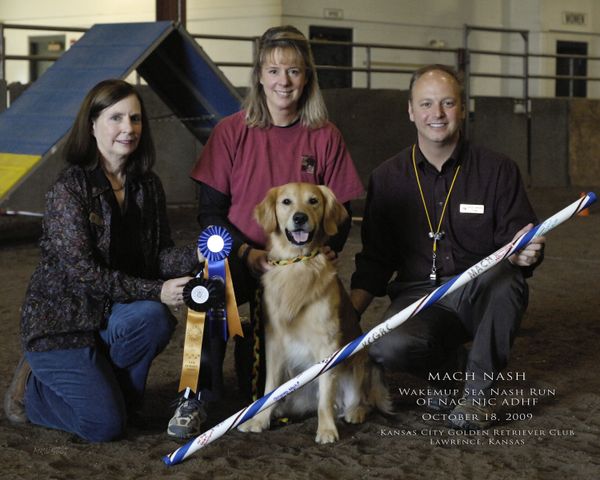 Linda Nelson & Nash achieve their MACH at the Kansas City Golden Retriever Club trial in Lawrence, KS today - Oct 18, 2009!

Mickey Rabeneck Photography
http://rabeneck.dotphoto.com